When you drive into the Bunya Mountains Accommodation Centre Entrance, you will see the 2 signs as in the image to the right.
Drive up that driveway on the right and park on the grass outside "Mai". It's the one way up the back with the red arrows pointing to it :)
I have previously emailed you the times to turn up, what to bring ect. If you have not seen the emails, do a search in your email client for "Bunya Mountains Retreat" and see if you can find them that way.
I need to know that you have been receiving my emails because thats how the online segments will be delivered to you after the retreat.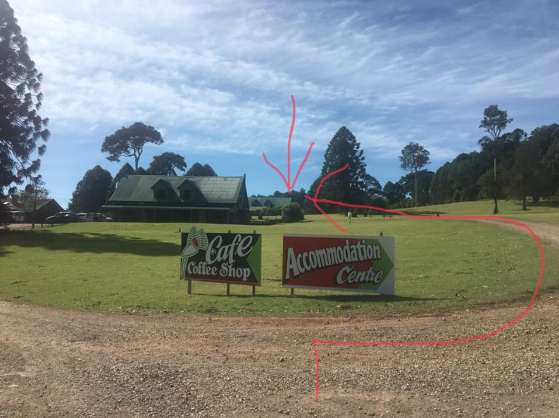 If you cannot access the email of what times to turn up and what to bring ect, click here and send me a message via Facebook now, and I'll give you the details again
If you have been keeping an eye on the Facebook event page, you will have seen the new lunch and dinner menus available on the mountain. If you missed it, you can find it here
Remember to bring cash if you want 'in' on the range of products that will be going to the Toowoomba Multicultural Festival. You get first pick. You were sent an email about this too. If you missed it, you'll be able to see the crystals, necklaces, bracelets, lucky dips, lotus candles ect that will be for sale a the Bunya by clicking here
Bring warm clothes, linen if you're staying, food for breakfast, lunch and dinner, water and open minds :) I'll see you all soon. Yay!
-Hugs, Kelly