Keto Asian Style Stir Fry
Keto Asian style stir fry is quick and easy to make. Freezes well too if you make a bigger batch.
Keep reading below for
Ingredients
How to cook keto asian style stir fry
Tips to making your asian style stir fry cooking experience better
More about healthy weight loss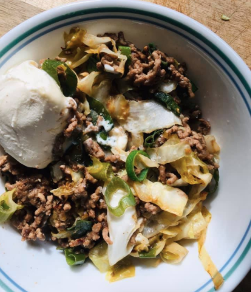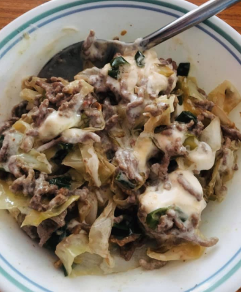 This makes 4 servings
750 grams cabbage
100 grams butter
600 grams minced beef
1 tspn onion powder
1 tbspn white wine vinegar
salt and pepper
2 tspns minced garlic (or 2 garlic cloves)
3 spring onions chopped
1 tspn chilli flakes
1 tbspn ginger chopped or grated
1 tbspn sesame oil
2 dollops of sour cream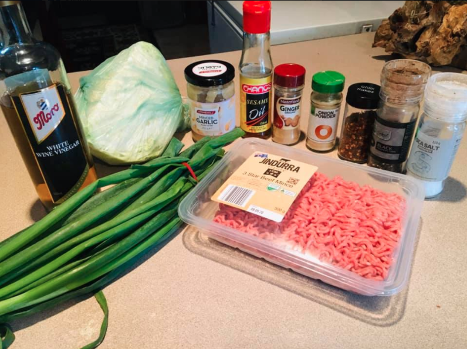 How to cook keto asian style stir fry
1. Shred the cabbage and fry in 80 grams of butter until soft
2. Add everything except the mince and sour cream. Stir fry.
3. Set everything aside in a bowl while you brown the mince with 20 grams butter in the fry pan until most of the juices evaporate.
4. Add the cabbage mix back with the mince and mix it altogether until everything is hot.
5. Serve into bowls and add a generous dollop of sour cream to your meal. Mix it up and enjoy! (See first 2 images) OMG! Yumbo!
Keto Asian Style Stir Fry
You can substitute the butter for olive oil if you prefer to fry in that instead.
Omit the sour cream if you don't want it - but I recommend it because it's not only mouth watering and delicious, but it helps add to that high fat content to keep you fuller, longer
Spring onions can be substituted for scallions or shallots.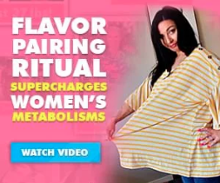 Transparency Note: Some of the products above are affiliate links which means that if you purchase them, I get a commission, small pony, magic wand or some kind of other amazing treasure. I know awesome, right? You can rest assured, I only promote things to you that I really think are fantastical (and I protect you like a mother bear)