Meditation classes run every Thursday night. Class begins at 6pm and finishes at 7pm. Cost is $10 per person, per class. Pay as you go. No experience is required. Bookings are essential as we have limited space.


Fully guided meditation classes for mindfulness, stress/tension release and relaxation.

Duration: 1 hour Cost: $10

2 people minimum for class to go ahead. Further down the page are class dates and how to book a seat.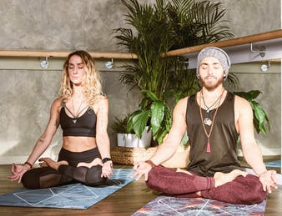 Benefits of Meditation Group:
Make new friends
Gets you present and keeps you calm and relaxed
Become more in tune with your Divine Essence
Increase positive emotions, compassion, immune function
Gain control over emotions and your ability to focus
Decrease anxiety, stress, pain, feelings of loneliness and depression

Meditation is like pressing a pause button to stop the chaos of the world for a little while.
This class allows you to delve more into the world of meditation with like-minded people. It provides a relaxing opportunity to ask questions and experience some of the easier ways of calming your mind, enhancing your wellbeing and getting present within yourself.
The price for the class is $10 per person. Please bring your own water bottle and yoga mat on the day if you choose to lie down.
Teens (13+) are welcome to join any meditation classes as long as they have their parent/guardian participating in the class as well. Cost is $5 per person aged 13 - 17 years.
These classes are held in Gowrie Junction which is 12 kms from Toowoomba CBD. The address will be given upon booking and payment.

Join us for a fully guided relaxing meditation and mini breath work experience in 2 easy steps. Please fill in the booking form only if you are committed to turn up. Thank you.


Meditation Class Booking Form
After you have submitted the booking form, please make sure you have $10 cash to pay on the day BEFORE class begins.
You will also need to wear comfortable clothes and shoes that are easy to remove. BYO water bottle. If class is cancelled for some unknown reason, it will appear on the business page here
Please note: There are 4 steps that lead up into the house. There is no wheelchair access. Sorry for any inconvenience this may cause.