Get moving every week with some gentle Tai Chi exercises.
Tai Chi originated from ancient China and is nowadays, practised throughout the world as an exercise for better health with many amazing benefits.Duration: 1 hour Cost: $10

Duration: 1 hour Cost: $10 (((8 spots maximum)))
Outdoor Tai Chi Classes are held every 2ndWednesday from 9am - 10am in Gowrie Junction. If it's raining, class will not go ahead. Further down the page are class dates and how to book a spot.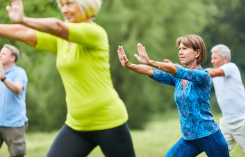 Tai Chi Health Benefits:
Is suitable for almost anyone


Relieves pain and improves quality of life for people with arthritis and medical conditions

Improves muscular strength and endurance, flexibility, balance and posture

Relieves stress, improves concentration and relaxation

Integrates body and mind

Socialise with new friends

Learn a complete set of easy flow gentle steps with feet, hands, mind and energy. A class for beginners. No experience required. Bookings are essential.
The price for the class is $10. Please bring your own water bottle and shoes to wear for Tai Chi outside.
Teens (13+) are welcome to join any tai chi classes as long as they have their parent/guardian participating in the class as well. Cost is the same for each person.
These classes are held in Gowrie Junction which is 12 kms from Toowoomba CBD. The address will be given upon booking and payment.

Join us for Easy Move Tai Chi in 2 easy steps. Please fill in the booking form only if you are committed to turn up. Thank you.
We are almost at the end of a set so no more new students please. New classes will start up again in January
After you have submitted the booking form, please make sure you have $10 cash to pay on the day BEFORE class begins.
You will also need to bring along a water bottle and comfortable shoes to do Tai Chi in. This is an outdoor class only. If it rains on the day, class will not go ahead. If class is cancelled because of weather, it will appear on the business page here