A Little Bit More Than
"Just a Facial"
Gorgeous vibrant skin after a soothing facial treatment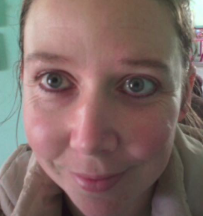 Experience a Full Relaxation Makeover of Body, Mind and Spirit
Acidity is pulled from the skin as the Kansa Wand detoxifies and deeply cleanses facial muscles.
Any acidity appears as a grey colour on the face. This is easily and gently wiped away
We begin with a kaolin clay facial mask treatment which gently exfoliates the skin as it removes dead skin cells and will leave skin moisturised, purified and nourished.
While the clay is doing its work, Kelly will relax your body with energy healing techniques, removing any "heaviness" due to blocked or stagnant energy flow within the body. This will help with empowerment on a spiritual level and the energy field can also provide helpful information. Kelly will pass this information on at the end of the session.
The next step is beautiful crystal healing so relax as crystals are placed on and around your body to help it get back to it's natural rhythm. Crystals align the body vibrationally and can ease mental and emotional stress as well as calming the mind. As the crystals work their magic, the clay mask is gently removed.
Natural jojoba oil is then applied to the face to protect against accelerated skin aging, and then we begin the final stage of relaxation.
Kansa Wand and it's soothing healing bronze surface is then massaged over the face. This process pulls acidity from the skin as it detoxifies and deeply cleanses facial muscles. Kansa Wand provides an instant face smoother which releases stress from the face and aids to glowing healthy skin, restoring balance in the skin and body.
Packages For First Timers, Best Friends and Pamper Peeps
2x 75 minute sessions $200
3x75 minute sessions $270
Jeanette Before and After Treatment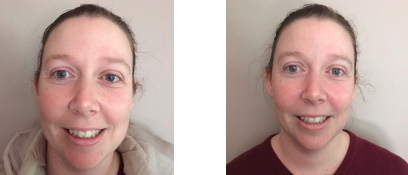 and Still Glowing 4 Hours Later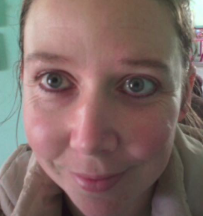 This smoothing and soothing facial treatment is currently available in Gowrie Junction, 17 minutes drive from the Toowoomba CBD.
Bookings are available weekdays, weekends and evenings on request. Pre payment to Heritage Bank or via online banking is required prior to session.
Simply fill out the form below with your preferred day and time for a session, and Kelly will get back to you within 24 hours. Thank you.
Facial Treatment Booking Request
Feel Free To add your comments below
About Your Facilitator, Kelly Flack
Kelly Flack is a professional energy healing master, mindset coach and mentor.
As a wife and mother of two, Kelly's life changed when she hit rock bottom of depression. She was then guided to discover more about the human potential and she grabbed that chance with all she had.
Since then she has:
Created The Positive Mindset Momentum Method along with Energy Healing Programs and Life Enhancing Sessions
Held monthly Healing Gatherings in Toowoomba for local students to practise and build confidence in their energy healing abilities
Built several online courses of meditation, mindset and energy for self healing and personal growth
Kelly specialises in helping people that have somehow become lost in life and feel stuck in todays society. She helps you to tune into your true nature as mindsets shift, energy amplifies and life comes back into a beautiful balance under a brand new and exciting perspective.