Keto Alfredo Cauliflower Chicken
Keto alfredo cauli chicken is a family favourite for my husband and I . . . and the kids prefer pasta instead of the cauliflower. I know right! You see what I'm dealing with here (hahaha)
It's easy to split them into batches though to please everyone :)
Keep reading below for
Ingredients
How to cook keto alfredo cauliflower chicken
Tips to making your keto alfredo cauli chicken cooking experience better
More about healthy weight loss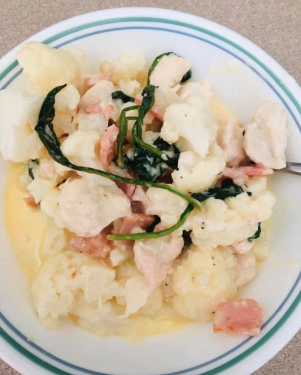 This makes 4 servings
40 grams butter
150 grams diced bacon
600 grams chicken breast strips
3 tspns minced garlic (or 3 cloves crushed)
200 grams fresh spinach
salt and pepper
350 mls HWC (Thats heavy whipping cream)
600 grams cauliflower (If it's hard to come by just use the frozen stuff)
100 grams grated cheese (parmesan or cheddar - up to you)



How to cook keto alfredo cauliflower chicken
1. Fry bacon in butter until crispy. Set aside in a bowl.
2. Saute chicken and garlic in the same pan. When thoroughly cooked, set aside in bowl with the bacon.
3. Saute the spinach in same pan until it shrinks. Set aside in the bowl with the meats.
4. Add HWC to the pan and let boil for a few minutes. Add the cheese, bacon, chicken and spinach and salt and pepper to taste. Mix together. Mmmmm looking good. Turn heat down and let simmer.
5. Break cauliflower into florets and boil for 10 minutes. Drain it. Add the chicken and sauce. Stir and serve.


Keto Alfredo Cauliflower Chicken Tips
You can substitute the butter for olive oil if you prefer to fry in that instead.
Sometimes here in Australia, fresh cauliflower is so cheap it goes flying off the shelves and sometimes its way too expensive. If this is the case, you can use frozen florets instead. Too easy.
At step number 5. this is where you can boil a pot of pasta as well (for the family fussers) and simply divide the chicken and sauce between the pasta pot and the cauliflower pot :) Tada! #HappyFamilies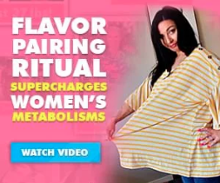 Transparency Note: Some of the products above are affiliate links which means that if you purchase them, I get a commission, small pony, magic wand or some kind of other amazing treasure. I know awesome, right? You can rest assured, I only promote things to you that I really think are fantastical (and I protect you like a mother bear)