Bunya Mountains Refuel Body Mind Spirit Retreat
What To Bring & Where To Go

IMPORTANT NOTICE: IF YOU ARE NOT FEELING WELL PLEASE CONTACT KELLY AS SOON AS POSSIBLE


So you're All booked In & Getting Ready To Go . . .
Here's what's next . . .

Scroll through this page at your leisure or jump to where you want to go by clicking a link below.


Where To Go & How To Get There
The main house where we will be holding the retreat is at "Toolburra". This house is near Poppies Cafe and it's number 3 on the accommodation map below.
Car parking is on the grass area above the house. If you are not sure where to go when you get there, simply pull into the accommodation centre office and let them know you're here for the Retreat at Toolburra, and the lovely team will point you in the direction of where to park.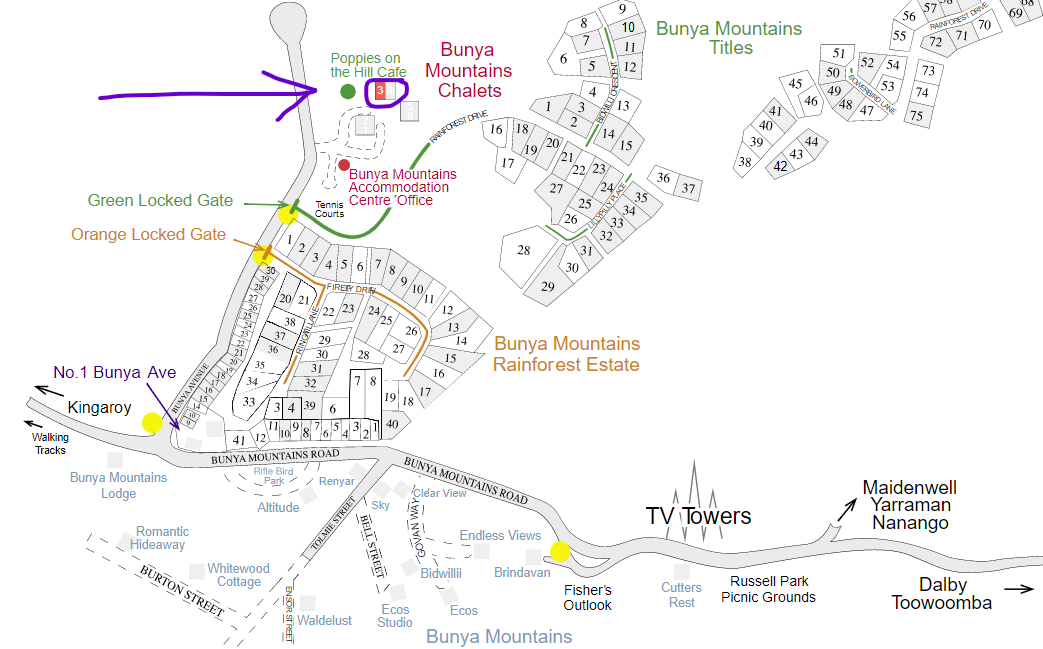 Essentials For Everyone To Bring
Camp chair to sit on for outdoor Tai Chi and meditations
Comfortable shoes to do Tai Chi and gloves to keep your fingertips warm (Many of us bought gloves at the general store one year as it was freezing )
Bug spray if mozzies love you
Journal or exercise book to write in for journaling time
Gratitude journal if you already have or they will be available to purchase at the retreat from $10 (cash sales)
You can bring a yoga mat or towel to lie on outside for meditations but I recommend using a camp chair to sit on simply because of grass ticks
If you usually meditate with a crystal or something else, you're welcome to bring it along with you
Glasses if you need them for writing or reading
Walking shoes and water bottle if you want to go for a bush walk in your spare time
Warm clothes and socks or slippers as we will not be wearing shoes inside. Bunya is 7-10 degrees cooler than most places
Warm clothes for dinner at the restaurant and a torch if you think you'll need one. It's a 3 minute walk.
Toiletries, towel, your own soap etc
Breakfasts lunches, dinners and snacks. Feel free to use the microwave and fridge.
Single bed sheets and pillow case if you are staying in the dorm at Toolburra
Pen to take notes with
Water bottle for each day
Open mind with excitement
Extra Information For Everyone
Tea, coffee and milk are provided daily. There is food available on the mountain at Poppys cafe and the general store.
Please do not bring any alcohol. This helps to have a clearer energy field for the duration of the retreat.
Some people have friends and loved ones staying in other accommodations and some are staying on for a few days more. Here are things to explore if your friends are looking for things to do while you are retreating with us. And here are some walking tracks.
Please note that we will be using hand sanitiser or washing hands before handling crystals. If you prefer to bring your own hand sanitiser, please feel free to do so.
Mobile reception quality is poor at Toolburra. However, there is a spot in the parking area outside that can usually pick up a clear connection if needed.
Please do not arrive at Toolburra before 3pm as I spend this time alone to clear energies of the house and get set up with everything.
Check in time is 3pm
If you are staying at other accommodations, please arrive at Toolburra at 3.30pm for introductions, opening circle and journaling
Check out time is by 10am on the Sunday
The full itinerary can be viewed on this link
If you have any further questions simply reply to the email I sent you :) See you soon