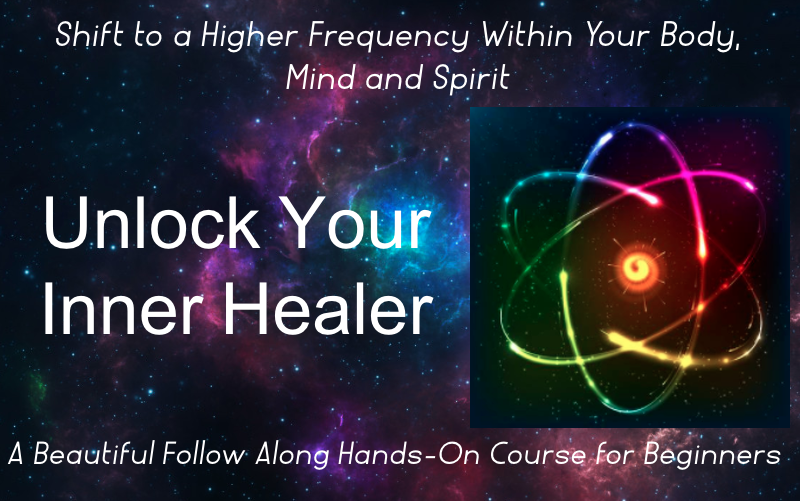 Previously know as "The Ultimate Chakra Energy Healing Course"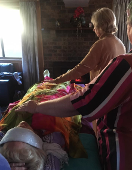 Access guided healing video tutorials so that you can easily follow along while doing divine energy healing work with your spirit teams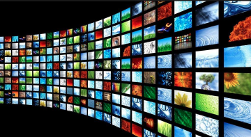 Gain a complete video library that answers all of your energy healing questions as you build confidence in your natural self healing abilities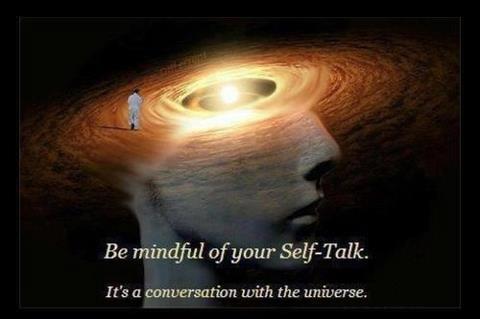 Use simple tools that will calm the busiest mind as you allow negative self talk to simply fall away
Continue to grow at your own pace in our online community group with ongoing support to help you every step of the way

People that want to use energy healing for personal growth,
calmness of mind, inner peace and self improvement.

Anyone that wants to help themselves, friends, family or clients,
to relieve and release pain, build confidence and gain more
balance and direction in life.

People who are tired of trying one healing modality after another
and not seeing results.

Anyone looking to tap into the power of energy healing without
having to do any guesswork.
Unlock Your Inner Healer With Divine Timing in 14 Easy Flow Sections
1. Take Charge of Your Thoughts
2. Working With Crystals
3. Connecting With Spirit Team
4. Checking Chakra Energy
5. Self Chakra Balance
6. Remove Heavy Energy From Self and Home
7. Clear and Balance Others
8. Breakthrough Video Avalanche
9. Chakra Recap
10. Symptoms and Foods
11. Colour, Visualisation and Affirmations
12. Pets and Other Animals
13. Distant Energy Healing
14. Keeping In Touch
"I'm A Much Happier Healthier Balanced Person Now!"
A Testimonial By Jeanette Richardson
A Testimonial By Tam Reid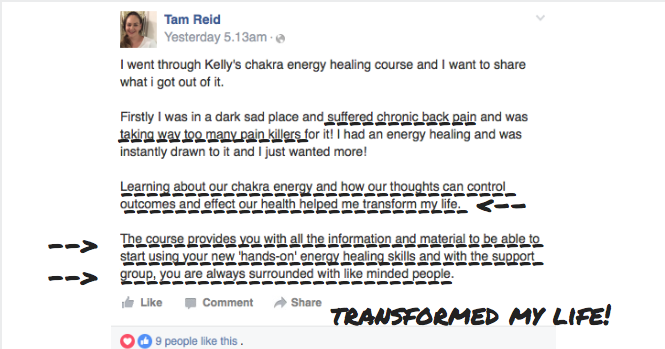 With all of these gorgeous energies encompassing the earth, in May 2020, I was guided to offer this beautiful courses lowest price ever to make it affordable to all.
The numbers I was shown in my dream state were 17.17 and so this is a payment option for you now, with love
I'd absolutely love for you to join us and unlock your inner healer xo So much love to you Dear Reader
If you prefer to pay a different price for this course,
"I was happy before... but this is a whole new level!"
A Testimonial By Michelle Lloyd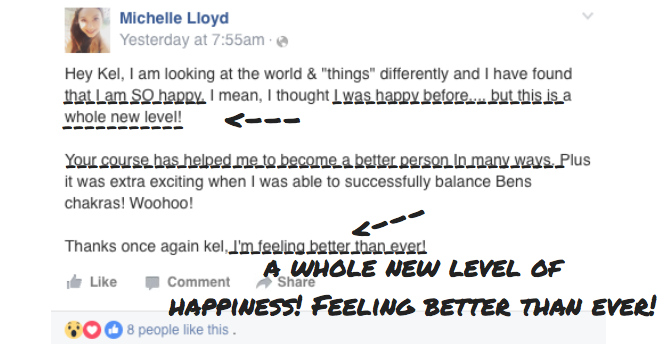 "... the strong feeling that I wasn't alone."
A Testimonial By Sandra Sargent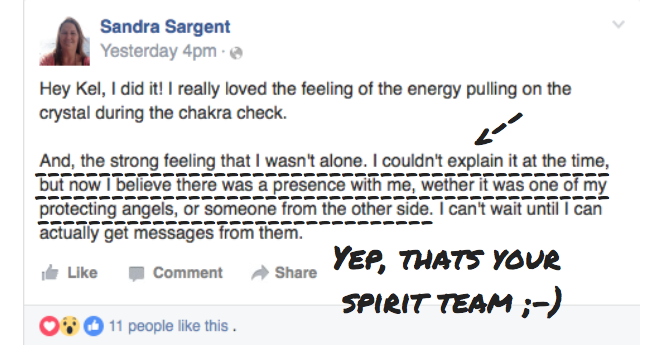 If you're ready to get started click :
FREQUENTLY ASKED QUESTIONS
What if I don't believe in myself enough to do this?


The best part about energy healing is that it actually BUILDS self belief. When you connect with your spirit guides and begin working with them regularly, things do start happening! And from there, self belief is the residual outcome.
No. Being at such a small price as it is, there are no refunds. As soon as you purchase this course, all of the information will be delivered immediately.
What if I'm unable to connect with my spirit guides?


If you are able to read a few words from a piece of paper (which is the The Calling) you will be able to get the attention of your guides. From there, you build your connection with them. Just like a body builder uses weights to build muscle, the energy healer can use The Calling to build Connection.
What if I pick up other peoples pain during healing?


Picking up other peoples pain can easily be removed within a matter of minutes. As human beings, EVERYBODY is picking up something from someone EVERY SINGLE DAY whether they are healing or not! You will know exactly how to "get rid of other peoples baggage" and other peoples pain by using straightforward highly effective methods that are taught to you during the course.
What if I don't have enough time?


If you put your body to bed at night to sleep, you have time to apply energy healing to yourself! It's that simple!
What if I can't focus the energy long enough?


What if it's not up to you to focus the energy in the first place? Thats right! Whilst performing energy healing, you simply need to get out of your own way! Energy healing is NOT hard work! This is "spirit" that you're dealing with here. When you get out of your own way (and you will discover how to do this) everything just flows. It's an uncomplicated beautiful process.
What if non believers put me down ?


Every person is on their own path and their path is absolutely perfect for them. Non believers included. These people give you the opportunity for exponential growth. You will have access to our secret Chakra Energy Healing Community where like minded people come together for complete support. You will come to see the non believer as simply someone that is on a different path to you - and that is completely okay.
What if my mind gets too distracted?


The wandering mind is something that we all have. You might be giving healing to someone and then next minute, you're thinking about the washing thats hanging on the line and what to cook for dinner tonight. We've all been there :) During this course, you are actually taught how to use 3 no nonsense words, that will bring you back to your "Now" moment so that you can also enjoy the healing energy that will be flowing through you. Such ease.
Unlock Your Inner Healer - Which Price Would You Like To Pay?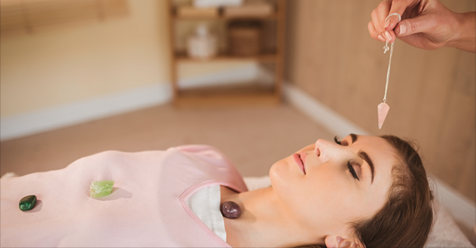 To purchase the "Unlock Your Inner Healer", also known as The Ultimate Chakra Energy Healing Course click a green Buy Now button and then open your shopping bag that will appear at bottom right of your screen to continue with your purchase.

All Buy Now links lead to the same course. Pick a price that resonates best with you and enjoy xo