Chakra Balancing Workshop
The Chakra Balancing Workshop is now available online or in person.
The fully comprehensive online course is one that you can make your way through at your own pace, in the comfort of your own home. It has an interactive support group too, available 24/7. Feel free to check it out here.
Or the introductory Chakra Workshop can be held in person for a minimum or 2 people (6 maximum). Please read on for details.

This is an introductory course on chakras for the beginner who is interested in understanding their chakra energy to being able to clear and balance chakras for themselves and for other people.
Duration : 4 - 5 hours Cost: $155 per person
On the day we will be covering:
1. Energy centres - what they are and how they move
2. Working with a crystal pendulum and chakras
3. Calling your Spirit Guides to help with Chakra healing
4. Chakra Meanings Reference Guide
5. Hands on techniques to clear and balance your own chakras
6. Hands on techniques to clear and balance another person's chakras
7. Helpful exercises to remove negative energy
Please Note: This workshop is 4 - 5 hours in duration (not 3) due to the amount of hands-on training involved.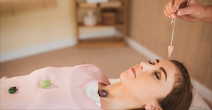 Any ache, pain or illness is due to a chakra that is blocked or imbalanced in its energy.
When you understand how you are blocking the energy of your chakra centres, then you also have the power to be able to dissolve blockages. This is how we can energetically balance our body and bring it back into a natural state of harmony and this is what you will learn at the Chakra Workshop.

This workshop allows you to delve more into the world of chakras with like-minded people. It is a relaxed day with plenty of opportunities to ask questions. A much deeper option is available during our Chakra Balance & Crystal Healing Retreat. Check it out here if you would prefer to go all the way!
The price for the day course is $155 and this includes training, course material and tea or coffee. You simply need to bring your own snack and a pen. A minimum of 2 people for class to go ahead.
If you have a crystal pendulum at home, you will also need to bring that with you to use. If you do not have a crystal pendulum, you are welcome to purchase one at the workshop. They are $15 each. (This price is for workshop participants only) Or you're welcome to bring your own.
Teens (13+) are welcome to join any chakra classes as long as they have their parent/guardian participating in the class as well. Cost is the same for each person.
At the end of the course you will also be given an invitation to access the Unlock Your Inner Healer Online Course and its corresponding Private Facebook Support Group


Join us for this interactive chakra clearing and balancing class in 2 easy steps.


Chakra Balancing Workshop Enquiry/Booking
After you have submitted the booking form, please make your payment by clicking the Buy Now button below